6 FHD channels over 150 m / 492 ft
HDBaseT™ certified for cross compatibility with other HDBaseT products
The ultimate long distance FHD graphics card for professional HDBaseT audiovisual installations.
Built in bi-directional emulated controls (IR / RS232 / CEC), allowing you to avoid the cable mess found in extenders.
Enquiry / More Info
AMD Compact & Energy Friendly Embedded GPU
A modular HDBaseT™ graphics card that comes with ultra compact and low energy usage AMD Radeon™ E8860 MXM Module:
Graphics Core Next (CGN) Architecture

10 Compute Units

768 Single precision GFLOPS (peak)

2GB GDDR5 Memory,

128-bit

<37W GPU Thermal Design Power


H.264/AVCHD, VC-1/WMV, MPEG-2, MVC, and MPEG-4/DivX formats

AMD APP technology, OpenCL™ 1.2, DirectCompute

Support for up to 6 outputs in FHD



Designed to allow you to upgrade the AMD embedded module in the future without the need to purchase a whole new product from us.
Supported MXM Modules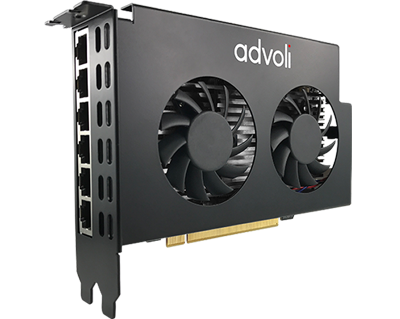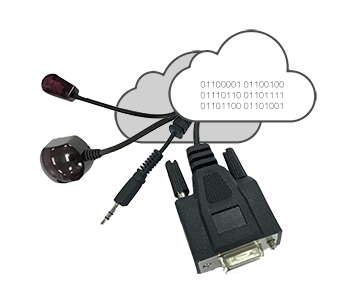 Do you really need to increase the points of failure and increase the use of legacy electronic waste in your installations by using additional cables for RS232, CEC, IR in and IR out? With TA6 Distance, you do not need to, a single CAT cable does all of this including your Audio / Video needs.
World's first graphics card to have emulated controls giving you the IOT power over your displays and projectors.
TA6 Distance has Infrared (IR) and RS232: Encode and decode IR and RS232 signals through Serial Console. The power of a universal remote control and the power to sniff and read any incoming IR and RS232 signal, copy the signal, and send the signal back out. Emulation of any RC5 or CIRC IR commands.
Consumer Electronics Control (CEC): Encode and decode CEC signals through Serial Console. Can send raw command CEC strings, emulating any device. Auto responds to basic CEC commands with additional diagnostic mode that can capture and show full raw data and timing information.
World's first graphics card with pass through IR.
If you do not want to use the emulated controls, but would like to use a remote control on the media server side to controls displays up to 150 meters / 492 feet away…
OR
… control media players from the display side up to 150 meters / 492 feet away from the media server…
…. the advoli™ TA6 Distance Graphics Card has one IR input and one output port for an IR Blaster and an IR receiver.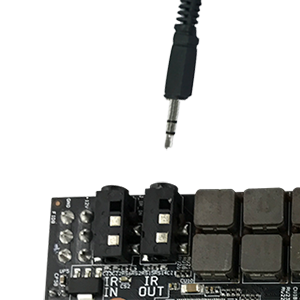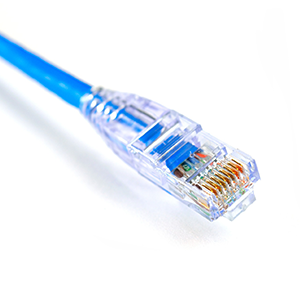 Sending UHD (4K) video, audio and controls up to a distance of 100 meters / 328 feet, and 150 meters / 492 feet for FHD (1080P), not possible with most other competing standards

Cheaper than other copper based cabling in general

Lighter and more flexible than most other alternative cabling

Usually much cheaper and easier to find when you need fire-proof and shielded cabling

Easy to terminate on site during installation – not possible with most other audiovisual cables.

Greater features not possible with competing audiovisual standards.
Half Length Graphics Card
The advoli™ TA6 Distance Graphics Card is designed to fit both smaller sized media servers with ITX form factor motherboards and large scale server motherboards. The advoli™ TA6 Distance Graphics Cards abides by the dimensions of the PCIe half length form factor:
L: 167 mm (175.26 mm) / 6.57 in (6.9 in)
H: 106 mm (106.68 mm) / 4.17 in (4.2 in)
W: 39 mm (40 mm) / 1.53 in (1.57 in)

Dual-width PCIe half length form factor specification in parenthesis.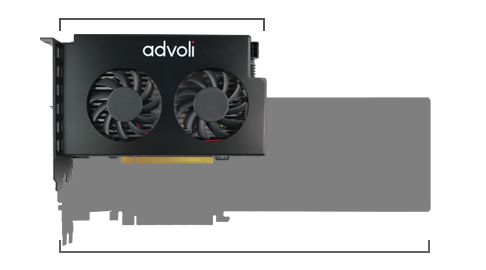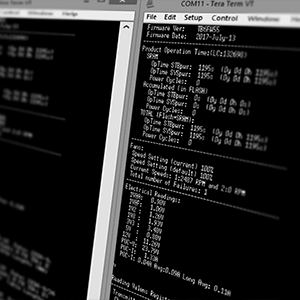 The advoli™ TA6 Distance Graphics Card comes with HDBaseT™ diagnostic features: cable distance, signal quality and signal integrity for each twisted pair on CAT cable.
The graphics card is packed with environmental sensors/controls/information: voltages, temperature, fan speed, operational hour, power cycles and display/projector connectivity.
This gives the end user control over audiovisual installations all the way down to the displays, to more effectively and remotely diagnose problems reducing the need to send technicians on-site to determine the problem – saving costs.
With a future web-based interface, diagnosis and notification service, installation oversight can be fully automated ensuring higher up-time and faster fixes.
The advoli™ TA6 Distance Graphics Card comes with dual ball (double) bearing fans extending the lifespan of the fans and ensuring consistency in performance.
Having two double bearing fans allow for redundancy – should one fan fail the other will increase speed to compensate.
Both fans are set to operate at lower RPM to increase the life span of the fans and to increase with elevated temperatures of our on board temperature sensors.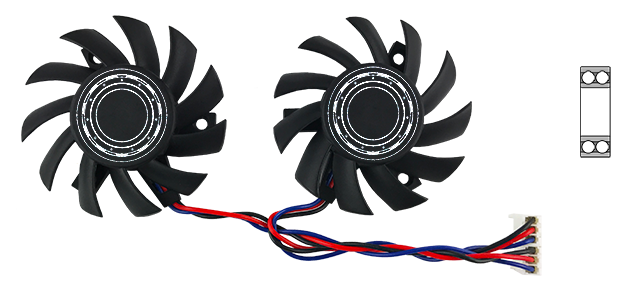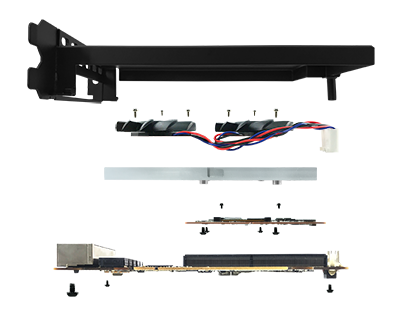 Flexibility, Functionality and Performance
When designing the advoli™ TA6 Distance Graphics Card we had three core items in mind while driving for simplicity.
Flexibility – we wanted to ensure you were able to use your preferred processor brand in as many different types of motherboards as possible.
Functionality – we wanted to give you more power over your graphics card functionality, pushing IOT solutions and driving more functionality over one cable.
Performance – we wanted to ensure what we delivered was robust and could scale performance based on need. We tested a multitude of cooling solutions and found out our own custom design gave the best performance for our form factor.
6 x Full High Definition Channels
With the advoli™ TA6 Distance Graphics Card you can choose to drive:
6 independent FHD display walls
6 combined FHD desktops as one large resolution stretched desktop (e.g. 6K by 2K)
6 independent FHD desktops
All over a distance of 150 meters / 492 feet per hop.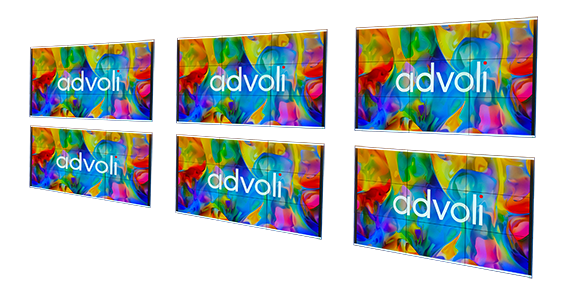 6 x FHD HDBaseT channels that can drive 6 unique or cloned video content over 150 meters / 492 feet.

HDBaseT Certified product

Built in HDBaseT & Environmental Diagnostics

Modular for easy future upgrades

Emulated bi-directional controls for Infrared, CEC and RS232

Half length & Dual-width Graphics Card
Minimum System Requirements
PCI Express-compliant motherboard with minimum one available dual-width x16 graphics slot

One available 6-pin PCI Express supplementary power connector

450W or greater system power supply, assuming 160W spare power for Graphics Card.


1GB of available hard-disk space

4GB system memory (8GB or higher recommended)

Windows 7-10 or Linux

Internet connection to download drivers
advoli TA6 Distance Graphics Card

AMD Embedded E8860 MXM

USB 9-pin connector


USB 2.0 to 3.0 adapter board

Quick Installation Guide
CABLE DISTANCE
Max Distance CAT5e/CAT6

LR Mode 1080p 60Hz @ 150m




1080p 60Hz @ 100m




UHD 30Hz @ 70m

Max Distance CAT6a/CAT7

LR Mode 1080p 60Hz @ 150m




1080p 60Hz @ 100m




UHD 30Hz @ 90m

Max Distance CAT7A S/FTP 22AWG

LR Mode 1080p 60Hz @ 150m




1080p 60Hz @ 100m




UHD 30Hz @ 100m
Data may be updated in the future based on new cable testing.
VIDEO
# of HDBaseT Tx Channels

6 x RJ45 Connectors

HDCP 1.4 / 2.2

Compatible pass through

HDMI 1.4 / 2.0

Compatible pass through




300 MHz Pixel Clock Limitation

3D

Supported

Resolution
4K DCI 4096×2160 24Hz/25Hz/30Hz
3840×2160 24Hz/25Hz/30Hz
2048x1080p
FHD 1080p 23.98Hz/24Hz/25Hz/29.97Hz/30Hz/50Hz/59.94Hz/60Hz
1080i 50Hz/59.94Hz/60Hz
720p 50Hz/59.94Hz/60Hz
576p, 576i, 480p, 480i
Max Resolution with all channels active
6 x 1080p 60Hz
1920×1080
Color Space

YUV, RGB

Chroma Subsampling

4:4:4, 4:2:2

Color Depth

8-bit, 10-bit, 12-bit
AUDIO
Pass-Through
All formats supported by HDMI 1.4 and HDMI 2.0
All major digital audio formats, including: Dolby Digital, DTS, Dolby TrueHD,
DTS HD-Master Audio, Dolby Pro Logic Iiz 7.1 & 9.1,
CONTROLS
Diagnostics

HDBaseT™
 Cable Diagnostics




Environmental
 Diagnostics




Electrical Diagnostics

Infrared
External IR Receiver Type A – 3 Pin Audio Jack Connector
External IR Transmitter Type A – 3 Pin Audio Jack Connector
Emulated IR IN/OUT – RAW Data
RS232

External In/Out – 3 Pin Audio Jack Connector




Emulated Serial Port IN/OUT
(Virtual COM port)
max baud rate: 115,200 bps

CEC Compatible

Pass through

EDID Management

Raw EDID pass through

Ethernet

No

Frame Lock

No

Genlock

No
PHYSICAL
Fansink

Aluminium with 2 dual ball bearing fans

Dimensions

L: 167mm H: 106mm W: 39mm 
L: 6.57in H: 4.17in W: 1.54in

Weight
356g +/- 10g
12.56oz +/- 0.35 oz
Form Factor

Half-length, dual width Graphics Card
ENVIRONMENTAL
Ambient Operating Temperature

0°C to 40°C / 32°F to 104°F

Storage Temperature

-20°C to 60°C / -4°F to 140°F

Humidity

20 to 90% non-condensing
REGULATORY
United States

FCC

Canada

IC

Europe

CE

Japan

VCCI

Australia & New Zealand

C-Tick

HDBaseT

Certified
Third party testing lab completed, submitting documents to each regulatory body.
Product Specification & Installation Guide
A dive into the technical performance, functionality and dimensions of the HDBaseT™ Certified advoli™ TA6 Distance Graphics Card.
Buy TA6 Distance Now